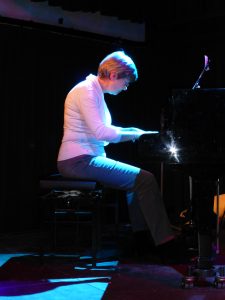 Irene van Osch (Rotterdam, 1958) is a passionated composer and pianist. She composes, among others, for piano solo, quatre-mains, violin or flute with piano and for church organ. Although there is a large variety of styles in the music she makes, her own signature is always present and recognizable. Her compositions show several layers of feelings and thoughts, profoundness and unexpected turns: it is never what is seems to be.
On average her work can be considered as contemporary classical music, inspired by composers as Astor Piazzolla, Erik Satie, Sergei Prokofjev, Francis Poulenc, Louis Andriessen en Jeroen van Veen.
In 2008 she started Arrangetto Music Productions, originally to publish her piano arrangements, but quickly she dedicated herself only to composing.
Irene's work is performed by reputable musicians, but she also performs her own piano pieces herself. Due to her touch she has a specific sound which is appropriate to her expressive music. In her compositions as well as in her performances she knows how to transmit emotion to the listener.
She gives presentations of her work also in French, if desired with an explanation.
Together with the artist and art teacher Hella De Boo she organizes workshops 'Tekenen/Schilderen op Pianomuziek'. During these workshops the participants make drawings inspired by piano music of Irene that she plays live on the spot.